Smoke from forest fires in British Columbia during August led to record levels of poor air quality since Fort Air Partnership (FAP), the organization that monitors the air people breathe in the local region, began reporting the Air Quality Health Index (AQHI).
The AQHI is a measure of air quality that people are exposed to and it is rated at a low, moderate, high or very high risk to health. Any rating over 10 is considered a very high risk to health, particularly for those with respiratory conditions, children and the elderly.
Locally, AQHI ratings were in the very high risk range on three separate days. August 18 was the worst, with very high risk ratings for seven to 10 hours at all local air monitoring stations. FAP's Gibbons air monitoring station recorded the highest level, at 21. August 15 recorded up to 10 hours of very high risk at individual stations within FAP. August 22 also saw significantly elevated AQHI numbers due to smoke at many of FAP's stations. The Elk Island station was the highest at 10.
Collectively, FAP's 10 continuous air monitoring stations also reported exceedances over provincial objectives at record levels during August. For the 20 days from August 7, when smoke began to affect air quality in the local area, to August 26, there were 925 exceedances recorded by FAP in the Airshed. August 15 alone had 161 exceedances.
Almost all of these exceedances were caused by high levels of fine particulate matter (PM2.5). PM2.5 is a respirable particulate that is less than 2.5 micrometers in diameter and small enough to penetrate deep into the lungs. From August 7-26, there were 109 twenty-four hour and 806 one hour exceedances of the provincial PM2.5 objective, nearly five times the previous high of 121 one hour exceedances recorded in 2016 caused by smoke from Fort McMurray and Northwest Territories fires that year.
Exercise Tests Site, Mutual Aid Plans and Skills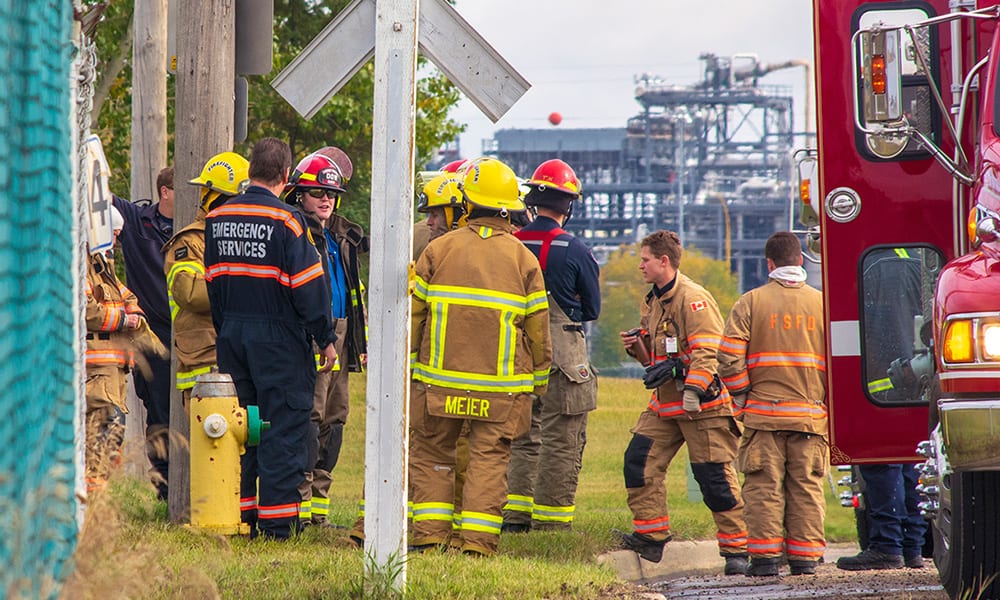 On September 18, Chemtrade Logistics held an emergency response exercise at their Fort Saskatchewan facility. The scenario simulated a damaged pipeline and subsequent product release, activating Chemtrade's emergency response plan. The Fort Saskatchewan Fire Department and RCMP were dispatched to the site, where the decision to call for NRCAER mutual aid resources from industry was made.
Emergency response crews from neighbouring sites Sherritt and Dow answered the call. Responders were able to put skills gained at recent municipal and industry pump operator courses to work in the mutual aid portion of the exercise.
The Road to Vision Zero
Vision Zero is the long term goal of obtaining zero traffic fatalities and serious injuries. The concept was founded in 1994 in Sweden. As a result of this long term strategy, Sweden has one of the world's lowest traffic fatality rates.
Vision Zero guiding principles acknowledge that:
We all make mistakes.
No loss of life is acceptable.
Traffic fatalities and serious injuries are preventable.
We are physically vulnerable when involved in motor vehicle collisions.
Eliminating fatalities and serious injuries is a shared responsibility between road users and engineers.
Vision Zero has been adopted by the City of Fort Saskatchewan, the City of Edmonton and Strathcona County. The goal is to get everyone home safe. No loss of life or serious injury collision is acceptable. Zero traffic fatalities. Zero serious injury collisions.
How we will get there?
Since Vision Zero is a long-term strategy, it means changes to traffic safety and infrastructure will take time. It begins with changing how we view traffic collisions. Together we can reach Vision Zero using the Safe System Approach, and the five E's of traffic safety:
Engineering
Education
Enforcement
Engagement
Evaluation
Vision Zero is a goal for everyone. What are you doing to make our roads safer?
Alberta's Industrial Heartland Association Celebrates 20 Years
AIHA members were joined by MLA Jessica Littlewood to celebrate the organization's 20th anniversary.
With friends, stakeholders, and industry partners in attendance, Alberta's Industrial Heartland Association (AIHA) recently celebrated 20 years of municipal collaboration, investment and economic diversification in the Industrial Heartland.
AIHA board member representatives from the City of Fort Saskatchewan, Sturgeon County, Strathcona County, Lamont County and the City of Edmonton were joined by associate member representatives from the Towns of Redwater, Bruderheim and Gibbons to recognize this incredible achievement and toast to the next 20 years.
As we look back at our Association's history, we reflect on all that the Association has achieved over those years. We are proud of the work we've done to attract investment, to drive energy diversification, and to promote innovative business solutions.  Twenty years ago, the municipalities of the City of Fort Saskatchewan, Lamont County, Strathcona and Sturgeon Counties recognized the opportunity afforded them by their unique location in the province.
These visionary municipalities created a partnership dedicated to strengthening sustainable industrial development that benefits the residents and businesses in our municipalities. With the addition of the City of Edmonton in 2010 and three associate members – Bruderheim, Gibbons and Redwater in 2011 – AIHA continues to demonstrate the value of that cooperation. As a result, more than $40 billion in capital has been invested in the region, realizing significant returns to the economy of Alberta and to the communities in Alberta's Industrial Heartland region.
We are a globally recognized brand and a passionate advocate for thoughtful, smart and meaningful policies to encourage investment in the region and in Canada.  Thank you to everyone who joined us to celebrate this remarkable achievement!  Learn more about AIHA and its members at IndustrialHeartland.com.
6.6 million pounds is the same weight as 37 Columbia Space Shuttles. It's also the weight of scrap metal that was recycled during construction of the Sturgeon Refinery.
At a value of only a few cents per pound, or maybe up to a dollar a pound depending on the item, the recycled material doesn't seem to be worth much. But 6.6 million pounds of scrap, one pound at a time, added up to several hundred thousand dollars over the past few years. Combine that with the refunds from beverage container recycling, at 10 cents a bottle, one bottle at a time. The funds add up quick on a construction site with thousands of people.
Recycling during construction of the Sturgeon Refinery was meant to reduce the environment footprint of the project. All of the recycling revenue was then earmarked for community investment in Sturgeon County and surrounding areas. To date, over half a million dollars has been funneled into the community to boost schools, local events, 4-H programming, seniors facilities, food hampers and more. Students have access to archery sets, iPads, and playgrounds that they didn't before. Libraries have expanded literacy programs and resources. Volunteer fire departments have replaced bunker gear. Food banks have supplied one of life's basic necessities to local families.
Here are a few examples of how North West Redwater Partnership (NWR) took waste materials and turned it into a valuable impact through their community investment program.
Further information on Waste into Worth is available at nwrsturgeonrefinery.com or by emailing communities@nwrpartnership.com.
Two future engineers learn the basics of mini robots and programming in Legal School's new Makerspace classroom. NWR's funding helped provide opportunities for students to do computer and robot programming, reconstruct electronics, build with Lego, and try their hand at using a green screen just like a news anchor or weatherman.
Thousands of young children and their parents will enjoy a brand new child minding centre in the YMCA near Castledowns. NWR's funding helped provide many of the materials, supplies and furnishings for a safe, educational and fun environment for families.
For four years, Linking Generations has been building relationships between seniors and youth in the community. NWR's funding helped provide transportation and materials for local junior high and high school students to partake in structured bi-weekly visits and activities with seniors.