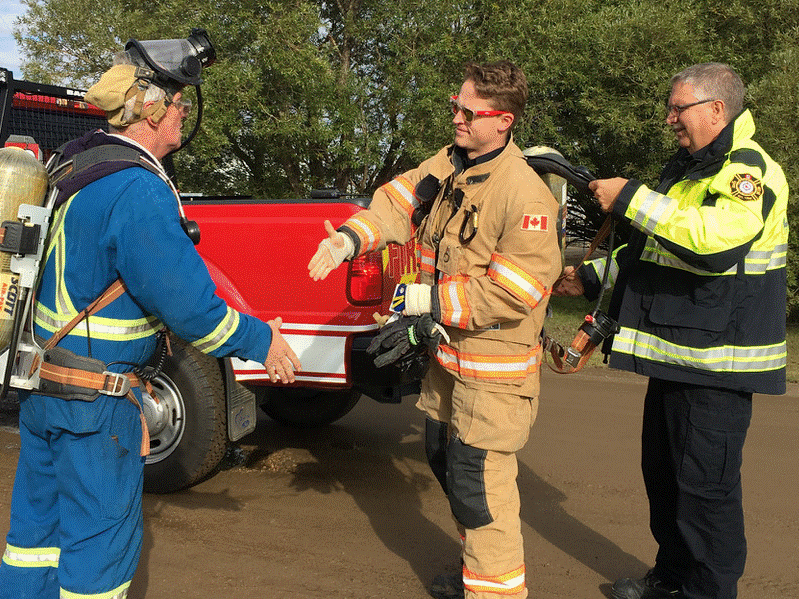 All communities have a plan in place to respond to emergencies, whether it's a transportation incident, fire, flood, weather event or loss of utilities. When an industry cluster is part of the community, it is critical that municipal and industry emergency response departments communicate, coordinate and collaborate on an ongoing basis to know one another and work together to keep our community safe.
While safety and emergency management are part of everyday operations for both municipalities and industries in the area, potential does exist for large-scale incidents that warrant a coordinated multi-agency response. Local mutual aid group, Northeast Region Community Awareness Emergency Response (NRCAER) was established in 1991 for that very reason. 

Funded through the annual dues of its local industry and municipal members, and supported by committed and forward-thinking individuals, NRCAER takes a best practice approach to emergency management. Members and partners meet regularly to exchange information and work on initiatives that consider a broad range of perspectives, yielding solutions that benefit everyone in the region.
In addition to members, NRCAER invites several agencies that may have a role in managing a large-scale emergency to participate in meetings and training, including RCMP, Alberta Emergency Management Agency, Alberta Health Services, Alberta Energy Regulator, Alberta Environment & Parks and Environment Canada.
This ongoing interaction highlights initiatives or training that segments of the membership can partner on and provides more opportunities for responders to train together in an efficient and often cost-effective way.
Achievements of the group include development of a mutual aid emergency response plan and activation protocol, resource inventory, dedicated responder radio system, community notification program, public safety awareness programs on Shelter in Place as part of 72-hour preparedness and an emergency traffic management plan developed with local RCMP. In addition, NRCAER coordinates Incident Command System (ICS) training, Traffic Control in Emergencies, and Critical Incident Stress Management. Table-top and simulation exercises are also held regularly to test and improve response plans and skills.
At its core, NRCAER is about people who willingly share their knowledge and work together to make our communities safe, informed and prepared. More than fire trucks, mutual aid is about neighbours knowing each other and being willing to help each other in times of need.
For more information about emergency response, notification, and safety in the region, visit www.nrcaer.com. For more information about Life in the Heartland, visit lifeintheheartland.com, follow us on Twitter and Facebook, or email info@lifeintheheartland.com.