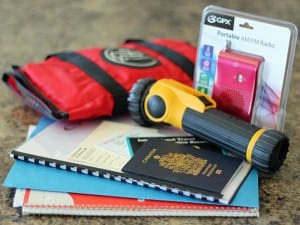 May 1st marked the anniversary of the Regional Municipality of Wood Buffalo Wildfire. Nearly 90,000 people had a short amount of time to flee – many leaving behind homes and possessions they would never see again.
"Imagine having 20 minutes to gather what you need and get out – not knowing when you'll be back, or what you will come back to," says Brenda Gheran with NRCAER. "It would be overwhelming, so the time to think about and prepare for it is before an emergency happens," Gheran says.
Planning ahead, and putting together an emergency preparedness kit, can make a big difference to your safety and your ability to bounce back from an emergency. "Kits are important, however you need to make your personal preparedness kit personal, to reflect your individual needs," Gheran emphasizes. In addition to first aid kits, flashlights and blankets, she recommends having copies of important documents in your kit to 'grab and go'.
Identification
Passports, driver's licenses, birth & marriage certificates, SINs, health care cards
Contact information
Emergency contact information, doctor and pharmacy contacts, child care provider contact
Financial
Income tax returns (last year's), bank account info, credit card numbers and contacts
Family documents
Insurance and benefits policies, wills, powers of attorney, custody documents, education records, immunization and medical records, prescription medication and dosages list, recent photos of family members
Pet information
Veterinarian contact information, pet identification and photo
"In an emergency, conditions can change quickly," Gheran says. "When you're prepared, you're better able to respond."
Emergency Preparedness Week in Canada takes place May 7 – 13th.
For more information about emergency response, notification, and safety in the region, visit www.nrcaer.com. For more information about Life in the Heartland, visit lifeintheheartland.com, follow us on Twitter and Facebook, or email info@lifeintheheartland.com.