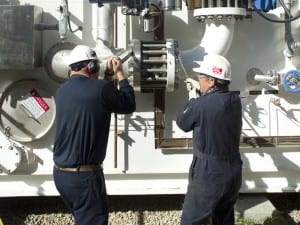 Warmer temperatures naturally spark spring fever. With that, comes plans of clean up, maintenance, new projects, and outside activities.
Facilities in Alberta's Industrial Heartland also take advantage of spring weather. For many companies, spring signals the start of turnaround season and the continuation of construction projects.
Maintenance is a must
Just like your vehicle and home, industrial facilities require regular maintenance to keep them operating safely and efficiently. Companies schedule turnarounds to decrease or stop production so that certain maintenance tasks can be completed. Depending on the facility, a turnaround can last as short as a few days, or up to a month or longer.
The work completed during a turnaround involves equipment inspections and, if necessary, repairs, replacements, and technology upgrades. Particularly on older facilities, new technology can improve an operation's environmental performance and help increase productivity.
Impact of industrial activity
Construction and turnarounds generate additional local spending on goods and services. They also create employment, as extra manpower is required to complete these projects. This added manpower may result in a noticeable increase in traffic on local highways. Turnarounds may also generate additional noise or visible activity as maintenance work is completed.
Curious about what you see, hear or smell?
Many companies use the UPDATEline to keep the community informed about turnaround and construction activities. Call the UPDATEline at 1.866.653.9959 to access pre-recorded messages about industry activity 24 hours a day.
Notable turnarounds and construction
Construction activities at North West Redwater Partnership's Sturgeon Refinery site will be ongoing throughout 2017. Companies with planned turnarounds this year include:
Spring (Mar/Apr/May)
Evonik
Pembina (Inter Pipeline)
Oerlikon Metco
Summer (Jun/Jul/mid-Aug)
Keyera Corp.
Oerlikon Metco
Sherritt International
Umicore Canada
Fall (Late-Aug/Sep/Oct)
Air Liquide Canada
Agrium Redwater
Chemtrade Logistics
For more information about Life in the Heartland, visit lifeintheheartland.com, follow us on Twitter and Facebook, or email info@lifeintheheartland.com.